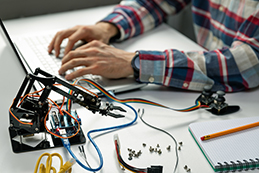 CAD (Computer Aided Drafting)
This course offers students an introduction to the basic principles of drafting and sketching techniques, object visualization, the application of math concepts and computer assisted drawing applications. During the second year, students will be able to construct three-dimensional and solids drawings, as well as assembly drawings. Upon completion students may earn a NOCTI credential or certification through ADDA. Dual enrollment is available.
Technology of Robotic Design
Students engage in the study of computers and microprocessors and their applications to manufacturing, transportation and communication systems. Problem -solving activities challenge students to design, program and interface devices with computer systems. Learning activities include robotics, computer-aided design, computer-aided manufacturing and design and control of electromechanical devices.
Engineering Explorations I
Students examine technology and engineering fundamentals in relation to solving real-world problems. They will investigate engineering history, examine related specialties and participate in hands-on projects.
Analysis & Applications II
Learn to apply the engineering design process to areas of the designed world, explore ethics in a technological world and examine engineering systems. Participate in STEM-based, hands-on projects as they communicate information through team-based presentations, proposals and technical reports.