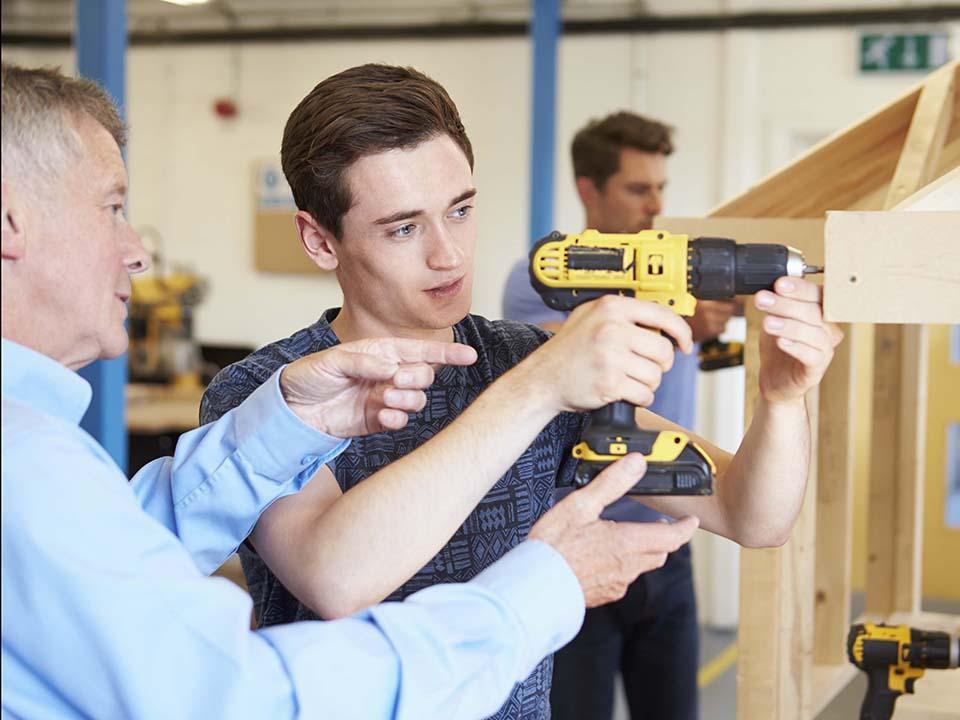 Building Trades
This program provides students with entry-level job skills in the construction industry. Students learn and practice construction theory, building codes, framing, cutting, shaping materials, mechanical fasteners, estimating materials, using a blueprint and installing basic electrical and plumbing. Upon completion of this 2-part course, students may earn a NOCTI credential.
Carpentry
Students in this project-based, one-year program learn to master the tools and machines of woodworking. Students gain experience using hand tools, portable power tools, and machinery, along with a variety of materials including lumber, roofing materials, fasteners and hardware. Students develop the skills needed for rough framing, roof framing, and exterior and interior finish work. In addition, students will gain experience in blueprint reading, math, and estimating. Upon completion of this course, students may earn a NOCTI or SkillsUSA credential.
CAD (Computer Aided Drafting)
This course offers students and introduction to the basic principles of drafting and sketching techniques, object visualization, the application of math concepts and basic through intermediate computer assisted drawing applications. During the second year, students will be able to construct three-dimensional and solids drawings, as well as assembly drawings. As students' skills progress, CAD will be used as a tool to assist in completing design projects of increasing difficulty. Engineering principles are introduced and explored through the design projects. Emphasis will be on the development and honing of problem-solving skills and assembling professional design portfolios. Students may be given the opportunity to compete in regional and state CAD competitions. Upon completion students may earn a NOCTI credential or certification through ADDA. Dual enrollment is available.
Welding
Experts agree that the demand for qualified welders is increasing rapidly creating an opportunity for employment that is better than ever. Instruction includes basic oxy-fuel cutting and brazing, joints, defects, metal properties, basic shielded metal arc welding, basic gas metal arc welding, basic gas tungsten arc welding, blueprint reading and automated welding. This 2-year program provides students with the opportunity to take the American Welding Society (AWS) certification test and a credential through SkillsUSA